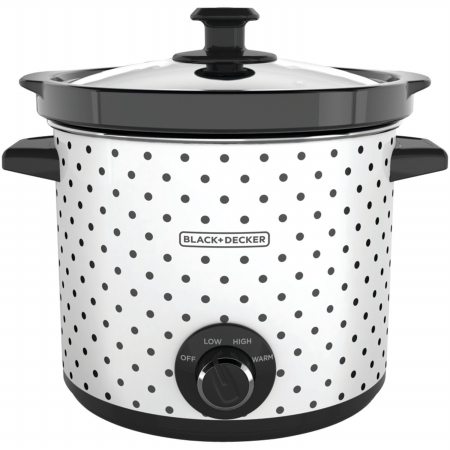 Click to view image options



Applica SC1004D Slow Cooker 4 Quart Black & White - Item#: DAHD6100

See how easy delicious meals can be with the BLACK + DECKER 4-Quart Slow Cooker. For roasts soups chili and so much more just place the ingredients in the 4-quart stoneware pot and let the constant heat go to work. Three heat settings give you options to find the best temperature for your recipe and your schedule-low for 8-9 hours of cooking high for 3-4 hours and warm for keeping food at the ideal serving temperature. Plus cleanup is easy with the dishwasher-safe stoneware pot and tempered glass lid.Features

Servings - Make a hot meal for the whole family with room for over four servings
Three Heat Settings - Low high and warm settings for all your slow-cooking needs
Stoneware Pot - The durable 4-quart pot retains heat and is easy to clean
Cool-Touch Handles - The plastic side and lid handles stay cool during cooking for easy maneuvering
Tempered Glass Lid - Keep an eye on your food while it cooks without lifting the lid
Color - Black &White


Please note that if you buy through an affiliate/associate link on our site we may be paid a small commission to help support this site.
Merchant ID: DAHD6100
Brand/Manufacturer: Applica
Brand/Manufacturer Model: SC1004D
UPC: 050875815940
Category: Crock Pots and Slow Cookers in Kitchen Appliances