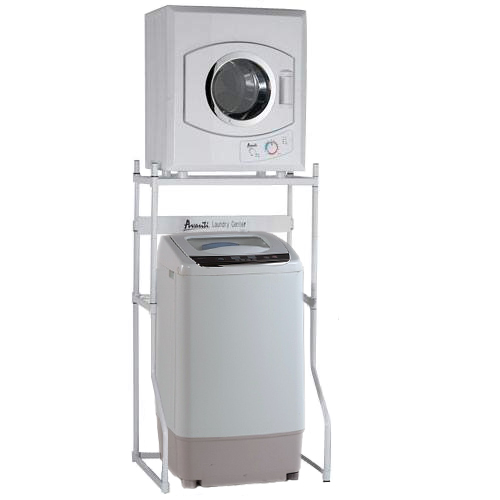 Click to view image options
Avanti Portable Washer 26Lb Capacity with Kit

Conserve your space, time and money with this room-conscious Avanti Portable Washer 26 Lb. Capacity with Kit (TLW30WKIT). This kit is the perfect solution for small spaces that need a fully loaded laundry set with portable, lightweight options. The Avanti Clothes Dryer Stacking Bracket transforms your area into a laundry-ready environment, conserving your space while comfortably allowing for proper appliance usage. The top load portable washer's six reliable operating cycles, combined with its 700-RPM spin speed and 26 lb. washing capacity, allow for a fast and efficient wash. This washer's durable painted steel appearance resists rust, dents and scratches. With only a 120 volt requirement, the compact and lightweight Avanti Front Load Dryer is the perfect complement to the washer. This unit's convenient auto-dry and timed dry features are built to work with your schedule, allowing you to get the most out of this set while having more time to enjoy what you love doing. Reliable wash: This washer offers 6 operating cycles, 700-RPM spin and four load-size selections, holding up to 26 pounds of laundry. Secure dry: This drying unit is able to treat up to 9 pounds of wet clothes, along with a built-in lock to ensure for an accident-free cycle. Lightweight design: Weighing in at 164 total pounds, this Avanti laundry set is a great solution for compact and limited spaces. Sturdy and durable: The Avanti Clothes Dryer Stacking Bracket is perfect for long-term use, ensuring that your units remain secure with its anti-tip design.

Please note that if you buy through an affiliate/associate link on our site we may be paid a small commission to help support this site.
Merchant ID: TLW30WKIT
Brand/Manufacturer: Avanti Products
Brand/Manufacturer Model: TLW30WKIT
Category: Washer Dryer Combos in Laundry Appliances