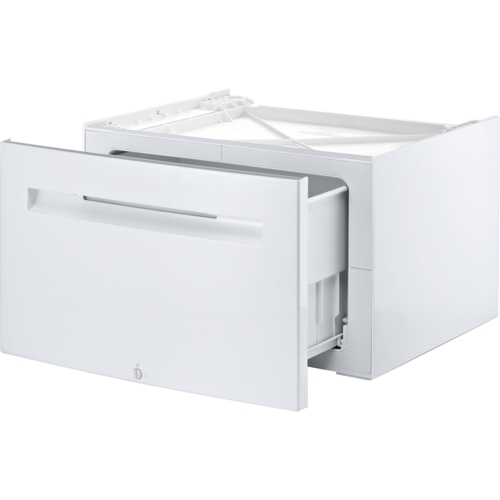 Click to view image options
Laundry Pedestal with Pullout Drawer for 24 Washers

"The Bosch Laundry Pedestal for Washers (WMZ20490) is just what your 24" Bosch washers need to give them the perfect level of elevation, plus much easier loading and unloading. This pedestal has been designed specifically for Bosch type washers and acts as a platform for the washing machine to sit on, helping users load and unload without needing to hunch over too much. Washing it made even easier with the added convenience of a pull-out drawer for storing cleaning detergents for easy access. Great Elevation:This pedestal raises the height of the washer by 17 inches to make loading clothes into the drum a lot more comfortable Good-Looking:The bright white color of it helps it blend together with your Bosch washer, keeping a consistent look Storage Drawer:Underneath the machine is a handy drawer that can be used to keep fabric softeners and other cleaning detergents Designed For Bosch:This pedestal has been designed to be fitted underneath Bosch brand 24" washers, and there is no guarantee that it will be compatible with other brands of washer"

Please note that if you buy through an affiliate/associate link on our site we may be paid a small commission to help support this site.
Merchant ID: WMZ20490
Brand/Manufacturer: Bosch
Brand/Manufacturer Model: WMZ20490
UPC: 825225901242
Category: Laundry Accessories in Laundry Appliances