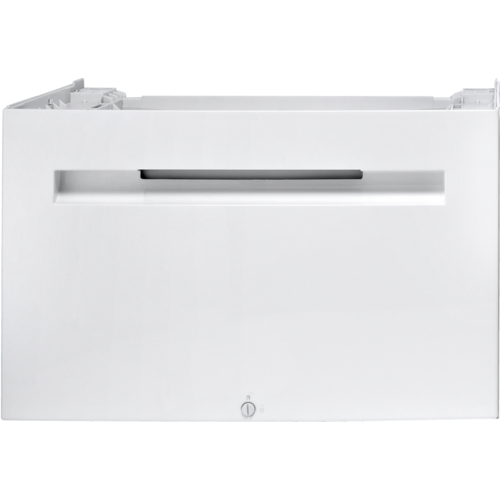 Click to view image options
Laundry Pedestal with Pullout Drawer for 24 Dryers

"The Bosch Laundry Pedestal for Dryers (WMZ20500) takes all the discomfort of having to bend over and load up your ground level Bosch dryer. Designed specifically for 24" Bosch dryers, this pedestal raises the elevation of your dryer by 17" to make it more comfortable when filling it up. The pedestal is strong enough to withstand the weight of the dryer, plus the weight of a drum filled to its full capacity. There's even a handy drawer for keeping cleaning items to save you getting up to go get them. Great Elevation:Elevates your dryer to an ergonomic height for comfortable loading and unloading. You're dryer will be standing 17" high from the ground Strong Construction:This pedestal is strong enough to take on everything that the dryer has to offer. Even when full, the weight of your Bosch dryer will not strain this pedestal Storage Drawer:Extra storage is provided with a drawer that comes out easily - perfect for holding cleaning materials so you won't have your arms when loading the clothes Designed For Bosch:This item has been specifically designed to be used with a Bosch brand 24" dryer. Other 24" wide dryers may not be compatible with this pedestal"

Please note that if you buy through an affiliate/associate link on our site we may be paid a small commission to help support this site.
Merchant ID: WMZ20500
Brand/Manufacturer: Bosch
Brand/Manufacturer Model: WMZ20500
UPC: 825225902850
Category: Laundry Accessories in Laundry Appliances