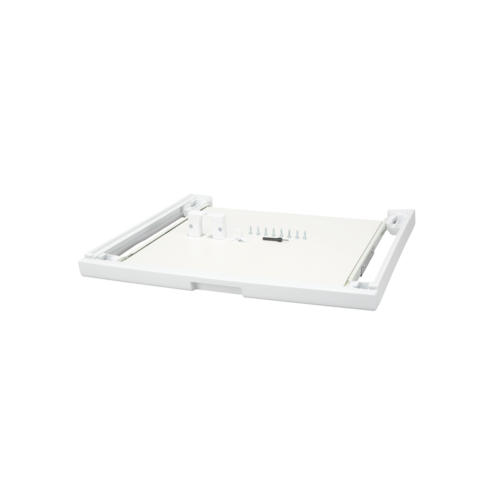 Click to view image options
Laundry Stacking Kit with Pullout Shelf for 24 Washers and Dryers (WAP/WTB Models)

The Bosch Laundry Stacking Kit (WTZ11400) helps you double the amount of space in your laundry room. This piece of equipment goes perched on top of your washer/dryer and allows a second unit to be held on top of it - keeping it stable and preventing the top unit from falling. The kit can withstand the full weight of a washer/dryer and even comes with a handy pull-out drawer for your laundry basket. Save space and make loading and unloading so much easier with this stacking kit from Bosch. Makes Stacking Easy:This apparatus goes fitted between your washer and dryer, enabling the two be stacked on top of each other to free up space in your home Stable Grip:Stacks efficiently, but also keeps them securely held, so even the vibration that is produced by either unit won't cause them to fall Handy Pull-Out Shelf:A pull-out shelf gives you a place to put your laundry basket - making loading and unloading the washer/dryer a cinch Built For Bosch Products:This stacking kit is designed specifically with Bosch products in mind (compatible products: R5850X2GB, WTY86791GB, WTW87560GB, WTW85490GB, WTG86400GB, WTW863S1GB and WTA74200GB). There is no guarantee that this kit will work with non-Bosch products

Please note that if you buy through an affiliate/associate link on our site we may be paid a small commission to help support this site.
Merchant ID: WTZ11400
Brand/Manufacturer: Bosch
Brand/Manufacturer Model: WTZ11400
UPC: 825225907589
Category: Laundry Accessories in Laundry Appliances