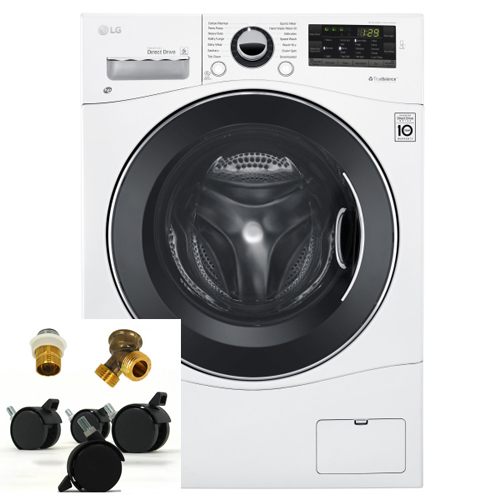 Click to view image options
LG 2.3 Cu. Ft. Ventless Washer/Dryer Combo with Portability Kit

Environmentally sound yet silent, the LG 2.3 Cu. Ft. Capacity Ventless Washer/Dryer Combo (WM3488HW) is extremely energy- and water-efficient to help you save money on your monthly bills. This compact all-in-one washer/dryer combo also features LoDecibel quiet operation, making each load whisper quiet so you can't hear it on the other side of the house. The unique ventless condensing drying system doesn't require an external venting source as many conventional dryers do, saving you the hassle of those annoying hook-ups that you associate with many washers and dryers. Perfect for any household and wherever there aren't any normal washer/dryer connections, this ventless combo will keep your whites at their whitest and your colors at their brightest. Included Portability Kit: Complete with a portability kit, this washer/dryer will be easy to move around when you need it to, so you won't have to worry about heavy lifting Ventless Unit: This washer/dryer combo operates without an external venting source, meaning hassle-free installation and perfect for homes, apartments, condos or vacation homes lacking conventional washer/dryer connections Minimal Noise: The WM3488HW features a direct drive motor and LoDecibel Quiet Operation, both of which contribute to minimizing the noise and vibration produced during use Delay Wash: This function allows the cycle to be set but not begin for up to 19 hours, allowing the machine to be unattended but timed to finish precisely when you need it to Capacity: This compact combo has a generous 2.3 cu. ft. capacity Cycles: The fourteen (14) washing cycles, four (4) drying levels and five (5) temperature levels give you precise control over the washing and drying method of your clothes

Please note that if you buy through an affiliate/associate link on our site we may be paid a small commission to help support this site.
Merchant ID: WM3488HWKIT
Brand/Manufacturer: LG
Brand/Manufacturer Model: WM3488HWKIT
Category: Washer Dryer Combos in Laundry Appliances