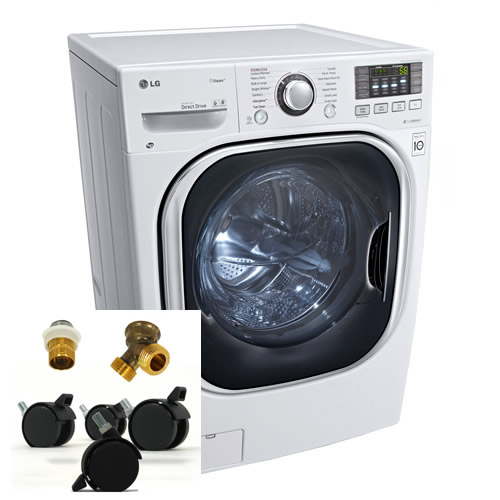 Click to view image options
LG 4.3 Cu. Ft. Steam Washer Dryer Combo with Portability Kit

Clean and dry your clothes in one convenient place using the LG 4.3 Cu. Ft. Steam Washer Dryer Combo with Portability Kit (WM3997HWAKIT). This combination washer/dryer with Senseclean boasts a 4.3 Cu. Ft. dry laundry capacity and is energy efficient. As the largest capacity front-loading combo washer dryer in its class, this LG combo unit utilizes multiple integrated spray jets and a powerful direct-drive motor to provide silent operation. Included Portability Kit: Complete with a portability kit, this washer/dryer will be easy to move around when you need it to, so you won't have to worry about heavy lifting Allergy Eliminating Wash Cycle: LG's Allergiene wash cycle is a powerful, high-temperature cycle designed specifically to reduce common allergens such as dust mites and domestic animal dander from your clothing, sheets and other household fabrics Direct-Drive Motor: Power is delivered right to the drum from the motor without belts, resulting in a powerful, energy efficient washing machine SenseClean System: The water level and wash time are set automatically based on the weight and size of each load for optimal washing care RollerJets & Forced Water Circulation: Clothes glide over the RollerJets while sprinklers encourage the removal of soil, reducing pilling, fraying, and snags for longer lasting clothing Sanitary Cycle: Get tough stains and bacteria out of dirty clothes with this special cycle that boosts water to 158 degrees F

Please note that if you buy through an affiliate/associate link on our site we may be paid a small commission to help support this site.
Merchant ID: WM3997HWAKIT
Brand/Manufacturer: LG
Brand/Manufacturer Model: WM3997HWAKIT
Category: Washer Dryer Combos in Laundry Appliances